Makarska, antic Makar,
today simboly of new touristic era MAKARSKA,
in old times called MAKAR, known from the time of Odysseus.
A beautiful place under Biokovo, a great mountain and favorite resort of many mountain climbers and sky-flyers.
Whole Riviera, about 100 kilometers long, is a territory of well developed summer and winter tourism, numerous sport possibilities in sea and on the ground.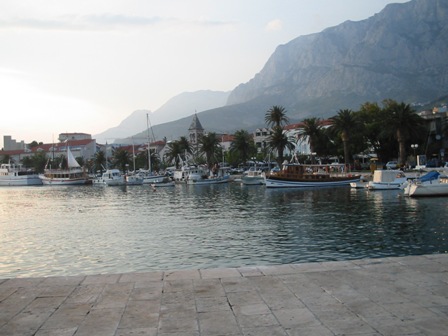 By all classic ways of fun, connected with sea, the high tops of BIOKOVO offer to brave ones moments, which will they remember and talk about them forever.
BIOKOVO, as an extremely beautiful park of nature, full of healing and aromatic plants, which is unique in the world, attracts every year thousands of climbers and people who go there just on a trip. Free climbers, flyers, jumpers have found here their paradise even when it?t a summer season.
Kilometers of thoroughly put in order beaches connect the city of Makarska with other inhabited places.
Pleasant tourist offer, number of trips on islands, fishing, mountain climbing, parachuting, ?> attract every year more and more guests not only in summer, but also in winter months.